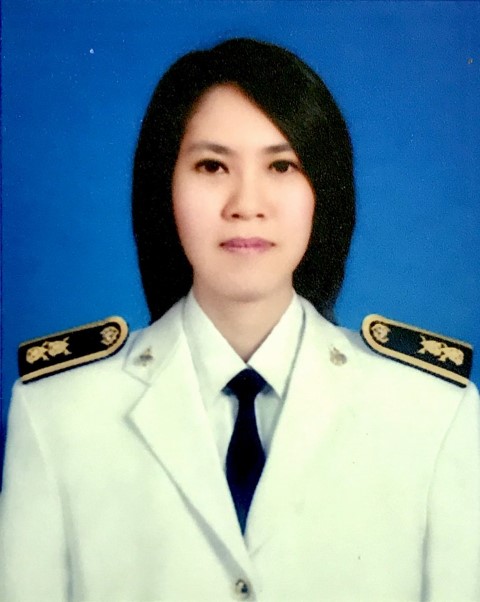 NAME   : Wipawee Saengsoi
Position:
 Academic Positions:  
Course              :  Veterinary Medicine 
 TEL             : 075-489614
 EMAIL         : wipawee.s@rmutsv.ac.th
Education
 Ph.D. University of Liverpool, UK
Master degree, M.V.M. National Chung Hsing University, Taiwan
Bachelor degree, D.V.M.  Chiang Mai University, Thailand
Expertise
Small animal internal medicine
Small animal theriogenology
Obesity and endocrinology
Teaching Experience
 Animal reproductive biotechnology  (2013 - present)
Internal medicine (2011 - present)
Theriogenology 1 and 2 (2010 - present)
 Companion Animal Theriogenology Clinical Clerkship (2017) 
Research methodology  (2010 - present)
 Veterinary radiology  (2010 - 2013)
Animal behavior and restraint  (2009 - 2013)
Research Interests
Biotechnology in reproduction
Obesity and endocrinology
Musculoskeletal biology
Internal medicine
Research or Invention
L. M. Rubio-Martínez, E. Rioja, M. Castro Martins, S. Wipawee, P. Clegg, and M. J. Peffers. Local anaesthetics or their combination with morphine and/or magnesium sulphate are toxic for equine chondrocytes and synoviocytes in vitro, BMC Veterinary Research. 2017. 13(1):318. 
Saengsoi W, Puttasupa S, Thongmanee P, Thongthawat K, Boripan J. Melioidosis Detection in Captive Elephants in Surat Thani and Phang Nga Provinces Using Indirect Haemagglutination Test. In: Boonlertnirun K, ed. The 6thRajamangala University of Technology National Conference and The 5th Rajamangala University of Technology International Conference, Phranakhon Si Ayutthaya, Thailand, July 23-25, 2014. Proceedings. 2015:310-317.
Saengsoi W, Chankeaw W, Chanrot M. A Comparative Study of Stallion Castrations, RMUTSV Research Journal. 2014. 6(1):30-8.
Saengsoi W, Sathanawongs A. Effect of Oral Zinc Sulfate Supplementation on Canine Semen Quality, Chiangmai Veterinary Journal. 2012. 10(1):11-9.
Saengsoi W, Shia WY, Shyu CL, Wu JT, Warinrak C, Lee WM, Cheng FP. Detection of matrix metalloproteinase (MMP)-2 and MMP-9 in canine seminal plasma. Animal Reproduction Science. 2011. 127(1-2):114-9.
Book
Experience
Faculty of Veterinary Science (2009 - present)
AP Animal Hospital (2007)